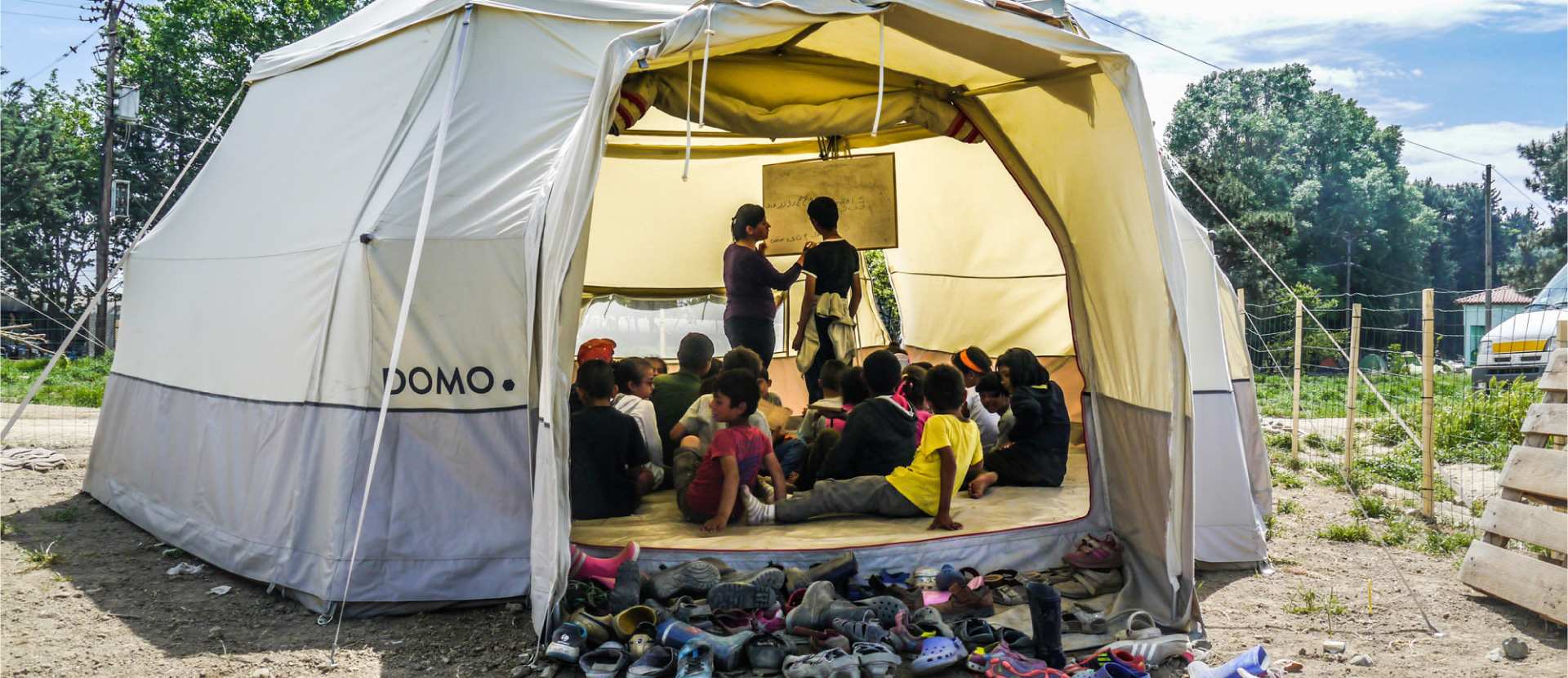 ABOUT THE DOMO-SYSTEM
More Than Shelters was inspired to design the DOMO-System in response to the current refugee crisis. We wanted the DOMO-System to be able to adapt to the various needs of our humanitarian partners and we recognized that we can not have a "one size fits all" approach. This is why we created a system instead of one product.
The DOMO as a system gives you the opportunity to be part of the final design of the structure, providing you with the ability to create an environment that best suits your needs, being it for accommodation purposes or to build a school, a nursery or a field hospital.
Due to this modular character the DOMO-System flexibly adopts to individual needs as well as to local climate and geographical circumstance. DOMO is completely free-standing and the base configuration consists of a strong foldaway supporting structure, a set of interchangeable fly sheet elements composing the shell, a sturdy tarpaulin floor and two detachable vestibules.
KEY FIGURES
Surface: 23,5 sqm (251,9 sqft.)
Full usage of surface, no center pole
Hight: 2,60 m (102.4 in)
Pitching time: 40 min. / untrained persons
Lifespan of structure: 10 years
Transport: 2 Boxes 120 x 80 x 30 cm (47.2 x 31.5 x 11.8 in)
Capacity: 6 -10 people sleeping / 25 - 30 seated
Materials: Aluminium structure / Shells for all climate zones
Price: from 2850.-€
THE SYSTEM
The basis of the DOMO-System is a fast-folding frame. Once erected it provides a heavy duty structure as known for buildings. Onto the frame you can apply various shells of different materials. You can interchange and exchange them over various seasons. Inner shells are available, too and even a hard shell can be put onto the frame to build a real hut. This means you can use all components of the system, especially the frame again and again over years.
THE SYSTEM 2
You can connect all DOMO units on all six sides. An endless variety of options helps you to build the exact spaces you need. This helps you to adapt the system to the building site and other external parameters, but mostly to build exactly for your purpose being it a multi-room field hospital or a larger school compound.
Of course we offer the DOMO-System in a variety of materials for different climate zones, but we wanted to go a step further. Instead of only offering a space we include all other items needed for specific humanitarian purposes in a package. This is directly coordinated with your teams or procurement specialists to provide a one-stop-shop solution for you. Here are some examples of our packages.
EMERGENCY ACCOMMODATION
DOMO is extraordinary easy to transport. It is designed to fit all logistical standards. It can be carried by two people from one place to another and can be set up in less than one hour, even by untrained staff, making it the ideal choice for humanitarian operations who aim to re-establish a stable infrastructure and decent living quarters for the crisis-hit populations as well as for own staff on-site quickly. With DOMO entire impromptu villages can be built up or moved in only one day.
FIELD OFFICES AND BASE CAMPS
Each unit of the emergency shelter system DOMO is coming in two reusable and easy to (man)-handle transport boxes and can easily be brought even to remote areas or disaster-hit places which are difficult to access. Emergency response teams can easily set up their own base of operations and adequate staff accommodation without losing time. With DOMO entire base camps can be set up or - if the situation requires - transferred from one place to the next in less than one day. Fully equipped field office bundles are available.
CHILD-FRIENDLY SPACES
With our ready-to-deploy child friendly spaces packages you can quickly set up protected spaces for the most vulnerable. DOMOs can easily be connected to one another, creating whole day-care centres and nursery schools. In short, DOMO allows camp operators and crisis response teams to have child friendly spaces ready anywhere at any time.
SCHOOLS
Because of its modularity and the quickest operational readiness, the emergency shelter system DOMO is able to replace colleges and school buildings of any size in very short time. These fast-to-pitch DOMO schools and boarding houses unburden crisis-ridden families by providing a safe living & learning environment for the students and allow people to stay in their home region and to build prospects for their future.
COMMUNITY CENTERS
Due to its adaptability and modularity our emergency shelter system DOMO allows setting up community spaces, family areas and meeting places of any size in very short time. Through these community DOMOs people get out of the struggles of everyday life and find a piece of normality within adversity.
ORDER
We take pride in developing personal relationships with all of our clients. It is our guarantee that we will help you define and design the right DOMO system for your needs. Once we receive your message we will contact you in the manner of your choosing as quickly as possible. Starting from 2850.-€ the DOMO-System can be shipped worldwide.